For my one dinner in Philadelphia I choose
Morimoto
. A friend recommended it and I was a fan of Iron Chef so I had to try it. It's one long narrow modern room. See the site for pictures, mine didn't come out. The booths aren't really booths but free standing tables and chairs (and benches) with thick plastic walls separating the tables. As you progress through your meal, you realize the plastic walls slowly change colors. At some point you think, wasn't that blue before? There's a
menu
but the specialty is
Omakase
which is a chef's choice. It's priced at three levels, $80, $100 or $120 per person. The difference is the quality of ingredients they choose from. For $60 more you can have wine paired with the dishes. I choose the $120 figuring I wasn't coming back any time soon and skipped the wine instead opting for a Morimoto Martini (Sake, Vodka and some slices of cucumber) which was tasty. They asked if I had any alergies and then brought out 9 courses of surprises.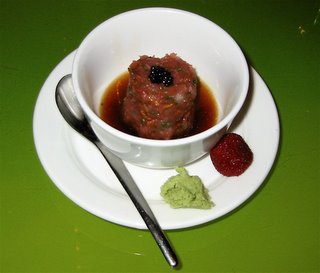 My 1st course was Toro Tartare. It was tuna mashed with something a little crunchy stuff, topped with caviar. On the side was wasabi and I was instructed to have a little wasabi with each bite. It was absolutely delicious. A great texture and flavor, very fresh. Next to the wasabi was a small fruit called Yamamomo which I was told is a small mountain peach and was a refresher for between courses. Inside is a pit but the flesh was sweet and tasty.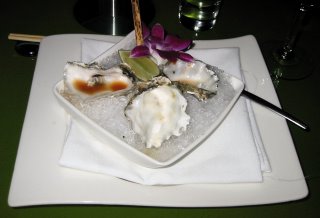 My 2nd course was 3 oysters served on the half shell. One with Champagne, one with a thin slice of jalapeno and one with some salsa. Now I don't like oysters but II hadn't mentioned this and was willing to try anything, so I did. They were good, particularly the champagne and jalapeno ones. Forgive the picture, I forgot when the dish came out, so picture the oysters being in the shells you see.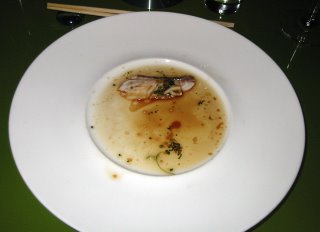 My 3rd course was Thai Red Snapper, 4 slices sashimied, seared and served in some olive oil. It was just ok. The fish was nice but it was very oily. Again, sorry about the pic, just imagine 3 more slices beneath this one. Really I got better at this.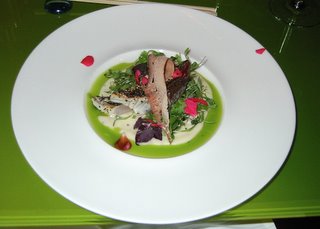 The 4th course was I think called compache, supposedly an exotic form of yellowtail. It was two sashimi slices and some microgreens in a very tasty umi soy vinaigrette. Only problem was the fish was little tough, I had to eat each piece in one bite.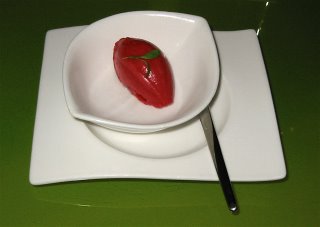 The 5th course was a palette cleanser, a scoop of sherbert. I tried a bite and it was very good, raspberry I thought. I had a few more bites and tasted some wasabi. At first I thought it was left over from the tuna tartare, but that didn't make sense and I only tasted it while having the sherbert, not between bites. I asked and yes, the palette cleanser was a raspberry wasabi sherbert. It was good and the wasabi was very mild, but I never would have thought to use wasabi cleanse your palatte.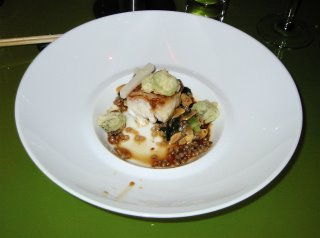 My 6th course was tilefish. It was cooked and served over japanese vegetables and some grain and sliced almonds. It was in a fantastic sweet soy dressing. There were some small tempura somethings. They might have been peas but seemed a little big for that. They were hot from the fryer and really good.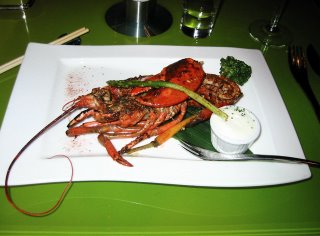 My 7th course was a half lobster that was spiced and broiled. Instead of butter it was served with a citris crème fraîche which made this absolutely decadent. I'm not a big lobster person. I normally just think the flavor is ok and can't be bothered eating it from the shell. This was
amazing
and I picked the meat out of every small leg and place I could find. This was the best part of the meal.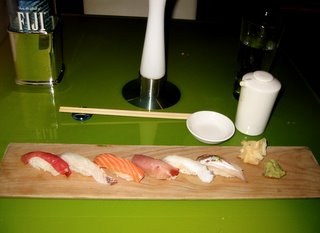 While waiting for my next course I looked down at the sushi bar and realized their sushi would probably be really good. i wondered if the chef would be insulted if after the meal I ordered a few pieces of sushi to try. Well it turns out my 8th course was six pieces of sushi. From left to right: otoro, yellowtail, salmon, something, squid, and mackerel. This was the best sushi I've had in the US. I can't really explain why. I think because I had the more expensive meal they were high quality cuts of fish. Whatever it was, it was yummy.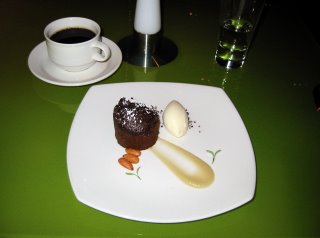 While waiting for dessert I realized I should have said I loved chocolate. Again, they seem to have read my mind and brought a chocolate cake for my 9th course. With the cake was a scoop of (I think vanilla) ice cream, a sake flavored jelly and 3 almonds. The sake jelly was awful and I didn't like it with the rest of the flavors. The ice cream was fine, smooth and creamy. The chocolate cake was unfortunately not molten but was rather cupcake-like, which was disappointing. Though I have to say, the three almonds were by far the best I've ever had, they were just astounding. The black coffee was very strong.
So that was it. $150 total and two hours long. Very tasty but not consistent, I had some amazing things (the tuna tartare, sushi and the lobster) and some just ok things. I wouldn't say the best meal I've ever had though I would definately come back and have the omakase again, though I'd probably get one of the cheaper ones.